Tennessee Thomas' Deep End Club is a trippy time warp of flower-power peace and protest.
The Los Angeles-based drummer, DJ and activist founded the club in 2013 as a space where artists and activists could work together to find creative solutions to the world's problems.
Raised on song lyrics and British rock, music is the long running thread through Tennessee's career and life. Daughter of Pete Thomas, Elvis Costello's long-time drummer, percussion came naturally to her. In childhood, she remembers "waking up to the sound of drumming" every morning.
I
caught up with Tennessee to talk music, fashion, the 60s and her personal evolution – stylistic and otherwise.
As a high school student in Los Angeles, Tennessee began touring as a part of the all-girl rock group, The Like. Grounded in an old-school, pre-punk grit that features a vintage Farfisa organ, drums, bass, and guitar, it took The Like a few years to find their voice. For their second album, produced by Mark Ronson and recorded with the Dap Kings, they moved away from a more produced, clean sound and towards the fuzzy, vibrancy of their music at its best. In Wishing He Was Dead, the women of The Like croon, "I just can't forgive and forget — when I am through with him, he will be wishing he was dead," – it is the grimy power ballad of a girl group that the 60s wishes it had.
Following the seemingly permanent hiatus of The Like, Tennessee skipped coasts. These days, she has been moonlighting as a DJ at parties and events around New York City. In beautifully curated sets Tennessee dazzles with her prolific knowledge and pairings – a perfect compilation of classic and modern. She's also been
working on a website that serves as a database for campaigns and activities that organizers and engaged citizens alike can use. Tennessee says of her efforts, [the problem is] "when you think other people will change things—that changing the status quo is the responsibility of a previous generation…but it is our generation now."
Thomas's influences – which include, but are not limited to "punk girl bands, butterflies, fairy tales, Alice in Wonderland, Edie Sedgwick, Patti Smith, Buckminster Fuller, dreams, India, East Village happenings from the '60s, surrealism as a revolutionary tool, poetry and Transcendental Meditation" – are captured perfectly in her brand.
For Tennessee, the importance of the 60s goes beyond an affinity with the decade's fashions. "Seeds were sown that we feel now," she says. In terms of her own activism, Tennessee has helped produce several PSAs through an organizing group, the Department of Peace, which creates conscious-raising campaigns and content. One PSA, which urged women to vote in the 2012 presidential election, is a lipsync video of You Don't Own Me, the 60s icon, Lesley Gore's signature song. The video includes an introduction by Lesley Gore, and features dozens of women lipsyncing including Lena Dunham and Natasha Lyonne. The video references the 1964 performance of Gore on the T.A.M.I show — a pre-MTV music staple — where the then seventeen-year-old looked straight into the Vaseline smeared lens and delivered a shiveringly powerful rendition of her song, singing, "I am free and I love to be free – to live my life the way that I want… you don't own me."
Nowadays, a typical day in Thomas's life includes "taking hikes in Elysian Park, frequenting the little cafés in the neighbourhood – Valerie, Stories, Honey Hi – going to shows at the Echo and Zebulon, eating a lot of veggie tacos from the taco truck and promising to do more yoga." If the Deep End Club didn't sound appealing enough already, it now involves guacamole.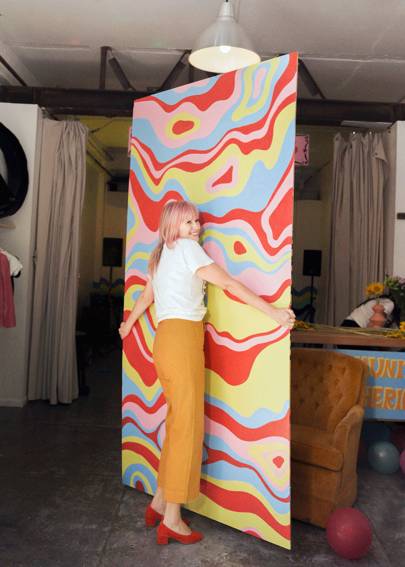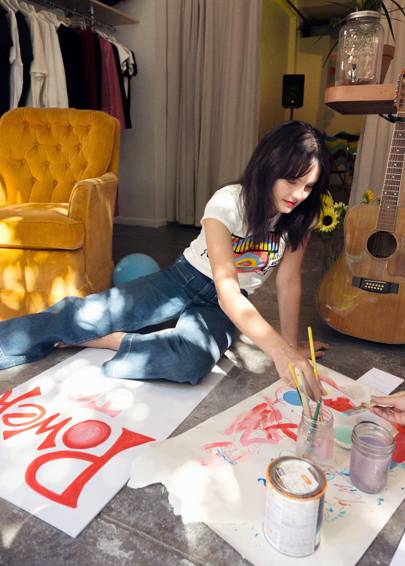 why did you start the deep end club?
When I moved to New York the Occupy Wall Street thing was happening, and this little group emerged called the Awareness Experiment. We put on a few events and had people talking about different issues, and I think I was just really sick of going to parties, especially in New York in the fashion world, where there are these events and they're giving out free drinks and no one's talking about anything, so it was cool be able to invite that crowd to this different kind of event and suddenly you have everyone talking about all this stuff that everyone cares about. And Occupy really started that conversation.
how would you explain the deep end club to someone who hasn't heard of it?
Having it function like a clubhouse and a space to commune is what's most fun and interesting to me compared to just selling things. It's an interactive thing. We have lots of little workshops and teach-ins. Just before the People's Climate March, everyone came here, we painted signs, and then we went up as a really big group. That was so inspiring; it sort of reignited that activism situation that we felt a few years ago. So that's what we're talking about now.
what are some pieces in your own closet that have the best stories?
In the 60s, Betsey Johnson had a shop called Paraphernalia. Edie Sedgwick was her fit model, she did all the costumes for Ciao! Manhattan, and The Velvet Underground would even play in the shop. It was quite a scene, but short lived. I've found a few Paraphernalia pieces that are amazing. I have this one purple knitted mini dress with bows all over it that I actually saw a picture of Edie wearing in an Andy Warhol book. I've also got a tartan black and white cape and a silver dress with big sleeves which is really cool. They're pretty special things.
how do you think activism links into fashion and business?
It's really hard because these big fashion brands will be like "look, we're doing a protest" and really they're just co-opting the actual movement to sell people more shit they don't need! And it's good if they're drawing attention to the issues and they're using their platform but at the end of it we need to just stop buying so much stuff. So if they're going to try and use that to sell stuff that's crazy and completely backwards.
Making new things period now is just unnecessary; 11,000 litres of water are used to make one pair of jeans! There's enough denim that exists in all the thrift shops around the world for people so I think the future of fashion will be all recycled textiles.
what were you inspired by as a teenager?
I really like the sixties, I've been moving slowly through it and I was drawn to it because of the music – I really like the Beatles and everything they stood for. As you follow their story you're like "wow, now their minds have expanded and they're really political!". I feel like the Beatles are a really good education; they did a lot of good work.
Fourteen was a bit of a big one for me because my dad said "do you want to move to America?" and it was the day before I had to choose my GCSEs and I was like "YES! I DO! WOOHOO HALLELUJAH!" I went to school (in America) with the Kardashians – just so you get the picture! Khloe Kardashian was in my class, I sat next to her when we did Romeo and Juliet. We all had to say what we wanted to be when we grew up and she said she wanted to be a Victoria's Secret model and everyone laughed – she wasn't kidding!
how do you think we can all make a change in the world?
I think you have to realise that we are all going to have to change our ways a bit to see those changes. And it's like the infrastructure doesn't exist! It's crazy! Why isn't the government just changing and moving forward? The enemy is those massive corporations that just have total control over everything – more than the government.
There are so many isssuuessss! But if everyone just does one thing… almost like during the war – a bit of rationing, it might be time for that because of this take, take, take, take.
I just read a book called The Impossible Will Take A Little While and it's about all these little tiny movements that inspired big things. So sometimes you don't need to try to have all the answers at once.